About Civil Engineering
The construction activities are constantly increasing to house the industries and working personnel. All related construction activities and other infrastructures like water supply and roads with multiple crore outlay throws a sustained spurt in the need for Civil Engineers in the nearest future. As long as the need for dwelling houses, shelter, thirst for water and necessity for increased food production and communicable transportation exist, the demand for Civil Engineers shall continue eternally.
CIVIL ENGINEERING
Civil Engineers build the world's infrastructure. In doing so, they quietly shape the history of nations around the world. Most people cannot imagine life without the many contributions of Civil Engineers to the public's health, safety and standard of living.
Civil engineering is a professional Engineering discipline that deals with the Design, Construction and Maintenance of the physical and naturally built environment, including works such as bridges, roads, canals, dams and buildings. Civil engineering is the oldest engineering discipline after military engineering, and it was defined to distinguish non-military engineering from military engineering. It is traditionally broken into several sub-disciplines including Environmental Engineering, Geotechnical Engineering, Structural Engineering, Transportation Engineering, Municipal or Urban Engineering, Water Resources Engineering, Materials Engineering, Coastal Engineering, Surveying, and Construction Engineering. Civil engineering takes place on all levels: in the public sector from municipal through to federal levels, and in the private sector from individual homeowners through to international companies.

DEPT OF CIVIL ENGINEERING
Civil Engineering Department was started in the year 2008 with a sanctioned intake of 60 students. In the next year itself, the intake was increased to a total of 120 students. Our department has highly qualified and motivated staff. In its Two years of existence, the department has been unflinching in its commitment to all round excellence. The Department has been maintaining an active interaction with the industries particularly with the Civil Engineering Society of India.
Designing and executing structural works requires a great amount of analyzing, understanding and planning. A Skilled Civil Engineer plays a crucial role in infrastructure development. He or she has to be a Construction and Environment specialist besides being a versatile systems integrator. Modern day hi-tech construction management systems require a thorough knowledge in Information Technology.

ASSOCIATION ACTIVITIES
The Civil Engineering Association (CORNICE) helps the students by organizing Guest Lectures, Workshops, Technical Seminars, and Symposium, Personality Development Programme, Industrial Visit and In-plant Training.
The department conducted its first association inauguration on 5th August 2009.
Dr.K.Palanichamy, Professor in Civil Engineering, NIT, Trichy inaugurated the function. The Founder and Chairman Shri.A.Srinivasan presided over the function. Our Secretary P.Neelaraj ,Dr.S.Thayumanavan, Principal felicitated the programme.
The chief guest Dr.K.Palanichamy also gave a Technical Talk regarding the "Scope of Civil Engineering and Advancement in Construction Technology''.


MISSION

The mission of the Civil Engineering Department is to explore the possibility of making use of waste products and materials available in abundance as substitute for building materials to economize the construction and thereby increase the affordability and sustenance of environment.

VISION

Our vision is to train the students in Civil Engineering to build a capacity and quality in them, to think designing and constructing safe habitat and to create better environment for the common man to lead a quality life.
| | |
| --- | --- |
| Fluid Mechanics and Machinery Lab | Strength of Materials Lab |

Our Civil Engineering Department is Equipped with the Following Laboratories.
1. CAD Lab
2. Fluid Mechanics and Machinery Lab
3. Strength of Materials Lab
4. Surveying Lab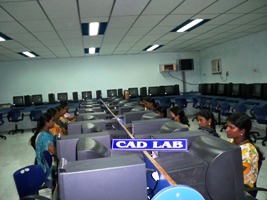 CAD Lab