Human Resource Development Centre
Human Resource is the only substantiable wealth of any country. In a growing economy, human input is of critical importance because of transition of economy from industry-orientation to service-orientation. Creative innovation being the key to sustained growth, it has become imperative to train the youth to face the burgeoing challenges in terms of technology and economy.

With this in focus, THE HUMAN RESOURCE DEVELOPMENT CENTRE (HRDC) has been established to contribute directly to the growth of the individual, the society and the country at large. Right from its inception, it is continuously focused on the upliftment of human resource under 4 wide areas like:
Higher Education Cell
Industry Institution Interaction Cell
Department of Training and Placement
Entrepreneur Development Celll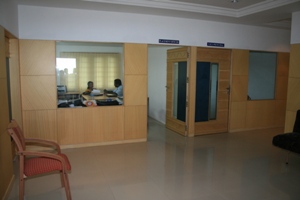 In addition to arranging campus interviews, the HRDC involves in organising various Personality Development Programmes, Self Development Programmes like ways to improve communication skills, methods to increase confidence level in facing interviews, techniques involved in group discussion, methods to prepare resumes,inplant training, industrial visits etc. Periodical lectures and training through eminent personalities, mock interviews and group discussions are arranged by the cell that further arranges weekly aptitude tests for final and pre-final year students.

Moreover, our Training and Placement Officer is continuously involved in conducting motivation classes on DECIDE TO SUCCEED along with other related activities. As part of our service activity, our Training and Placement Department trains students from sister concern institutions that come under the aegis of the trust.

From the desk of the Industry Institution Interaction Cell, we have signed Memorandum of Understanding with the following companies for sharing of knowledge, experience, learning resources, organizing national/international conferences, seminars, workshops, symposia, short and long term courses, exchange of faculties for various academic and research programmes, training for employees, Faculty Development Programmes curriculum based in-plant training and projects for students, undertaking development/ improvement research projects, software developments etc.,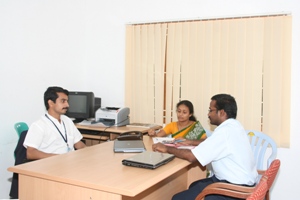 Bharath Heavy Electricals Limited, Trichy
Sri Amman Steels Ltd., Trichy
Neyveli Lignite Corporation, Neyveli
Focuz Infotech, Kochi
Electro Systems Associates Pvt. Ltd.,
Bangalore Pramati Technologies Ltd., Hyderabad
American InfoSolutions, Chennai
The following companies have been constantly keeping in touch with us for on and off campus recruitment of our student professionals
Alden Prepress Services Private Ltd., Chennai
Allsec Technologies, Chennai
Alphon Info Tech.
Altech Star.
American Info Solutions, Chennai
B2K Corp., Bangalore
Blue Lotus, Chennai
Bridgeway Management Consultancy, Chennai
Caritor India Pvt. Ltd., Chennai
CMS Computer Ltd., Chennai
Cognizant Technology Solutions, Chennai
Convergys, Hyderabad
Crisp Systems, Coimbatore
Datapattern
Decam Solutions(p) Ltd
Easun Reyrolle
Element K, Chennai
Femtosoft Technologies(p) Ltd.
Ford, Chennai
Gauranga Infotech
GE India Ltd, Pondicherry.
Genpact, Hyderabad
HCL Com Net., Chennai
HDTC, G.N. Chetty road, T.Nagar, Chennai
HSBC, Chennai
I Age Consulting Services, Chennai
IBS.
ICICI Bank, Cochin
ICICI Prudential




Igate Global Solutions, Bangalore
Infosys Technologies Ltd., Chennai
Invictus Technology PVT LTD.
Jasmine InfoTech, Chennai
Jeevan Software, Chennai
Koteshwar Tech-Bangalore
Maersk, Chennai
Maverick
Nittany BPO Service, Chennai
Nokia, Chennai
Pentasoft
Perot Systems, Chennai
Photon Info Tech.
Proverage Technologies, etc.
SAMZASTech, Chennai
Sands, Chennai
Sathyam Computer Services Ltd., Chennai
Shriram Transport Finance Company Ltd., Chennai
Sitel
Slash Support, Chennai
Sutherland global services, Chennai
Sysrac, Chennai
Tata Consultancy Services.
Tata Tele Services, T.Nagar, Chennai.
Transtaffs
Ucal Fuel Systems Ltd., Chennai
Vastek Solutions, PVT.Ltd, Chennai
Virtusa Pvt. Ltd.
Wipro Technologies, Chennai
Yantra Software Solutions, Chennai