Dhanalakshmi Srinivasan Matriculation Higher Secondary School, Trichy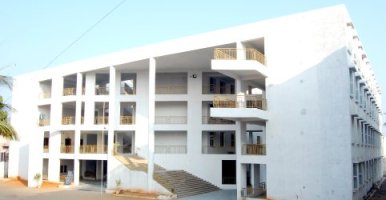 History of the school
Spurred by the vision of service to the society through education both at college and school. Dhanalakshmi Srinivasan Charitable and Education Trust was established in 1994 at Perambalur by the renowned philanthropist Shri A. Srinivasan. Dhanalakshmi Srinivasan Matriculation Higher Secondary School, Trichirappalli had its establishment in the academic year 2004-2005. This has been serving exclusively for the students to impart education and develop leadership quality and competency among the students.
Vision and mission
The motto of the school is "Truth, Kindliness & Courage". The objective of the school is to provide quality education at affordable cost for the downtrodden socially weak, economically poor and marginalized sector; to promote patriotism, self-confidence, optimistic, pragmatic approach and thirst for acquiring knowledge among the young and energetic youth for their all round development.
Curriculum
Our school is a co-education school affiliated to the Board of Matriculation Schools up to Std X. Std XI and Std XII are affiliated to State Board of Higher Secondary Education. Besides the academic proficiency, Arts, Physical Education, Computer Science, General Knowledge, Karate, Yoga, Abacus, Dance, Music and Chess are taught to make the pupil grow with higher potential. Apart from the chalk and talk teaching methodology, lessons are taught through Audio-Visual Media. This technique would definitely provide greater impact in moulding the young minds into good citizens of our country.
Eligibility criteria
Admission to kindergarten classes are given by testing the extent of listening and speaking capacity in Mother Tongue and English. The age requirement of entry into LKG is the completion of three years as on 31st July of the year of admission. For all other classes up to Std IX, the admission is strictly based on the performance of the entrance exam. Students will be tested in English, Tamil and Mathematics at the level of previous class studied. For Higher Secondary Students the admission is purely based on the performance on the X Board Exams.
Transport
School provides two vans and three buses for the transportation of students in and around Tiruchirappalli as decided by the Management.